Unfortunately, Middleton Footpath, west of Swinhoe Farm to Virgin Hill (as shown by the black line on the attached plan) is blocked by fallen and hanging trees as a result of Storm Arwen.
The farm are currently working to clear all blocked routes - of which there are quite a few - and will aim to clear the route as soon as possible. However, they are awaiting assistance from outside contractors with forestry equipment.
Walkers are advised that an alternative route should be used - see attached route plan via Dick's Oldwalls, Kiln Wood and St Cuthbert's Cave. , It will add just over a mile onto the walk.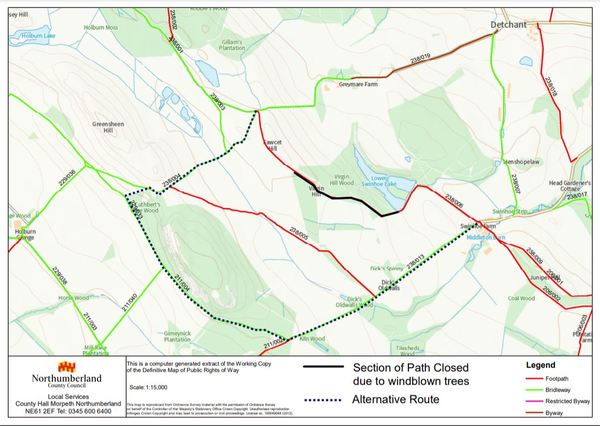 The on-going route through Kyloe/Shiellow Woods is pretty much clear now; there are some trees across Dolly Gibson's Lonnen from the adjacent woodland, but they can be by-passed.